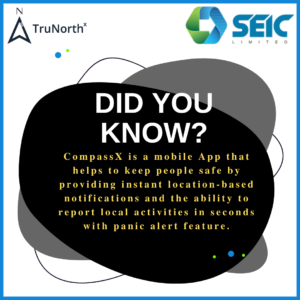 For ages, people have used a magnetic compass to help guide themselves through the unknown and get to locatios safely. CompassX takes the method of assisting people in navigating their surroundings, allowing you to find your way home with clear, safe advice; all in the palm of your hand. Features includes: Digital incident reporting, Panic Alert Button, Push Notifications to community, 2D to 3D – Map Visualization, Check-in/Check-out, In-App Support.
CompassX is a platform designed to keep people alert, informed, and connected without the need to rely on social media and long chat groups to stay safe.
How It Works
CompassX helps people quickly understand their surroundings and neighborhood through features such as:
Instant location-based notifications
The ability to report local actoivity in seconds
Built-in data accuracy and privacy
Community Sharing of reported activity
Viewing activity on a powerful & fast mapping system in 3-D with local landmarks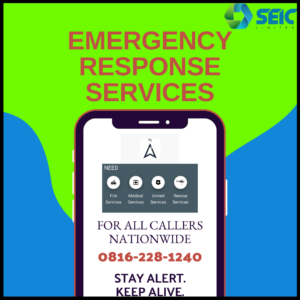 Our value proposition and benefits includes:
Foster real time collaboration between multiple locations and users
Contributes to the decrease of theft and property damage
Facilitate the distribution of resources where they are most needed
Replace networks like WhatsApp and Twitter with a visual (map) reporting platform
Provide an end-to-end solution with 3rd party emergency response providers (Fire, Medical, Armed Services and Rescue Services)
EMERGENCY RESPONSE PROVIDER PARTNER
Emergency rescue provider partners provides additional rescue response in an emergency situation such as fire, medical, security threat or accident to users on the CompassX platform.
CompassX faciliates real time collaboration between multiple locations and users as well as the distribution of resources where they are most needed.
Join our network of emergency response provider partners.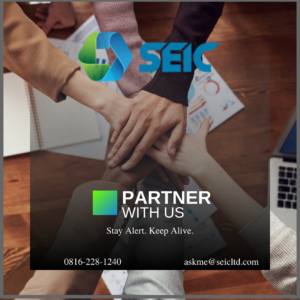 STRATEGIC BUSINESS PARTNERSHIP
SEIC Limited is an Information Technology, service and consulting firm and our vision is to supports the continuous development of African emerging enterprises via the use of digital resources and technology platforms.
More recently we have signed a strategic channel partnerships with a next-gen intuitive technology company based in the United Kingdom who understands physical danger, dangerous events and public safety, through an easy to use platform.
SEIC Limited is licensed to distribute the CompassX platform in Nigeria.
Sign up today to become a reseller.