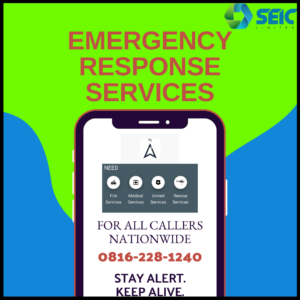 Users on the CompassX platform can subscribe to our third party emergency response sevices for medical, security threat or accident.
We work with third party emergency response services partners such as: 
Armed Security: Halogen Security, Spartan Security and Police
Medical: Emergency Response Africa
Subscribe by completing the form and make payment.
Terms and Conditions: Armed Security (Police, Halogen, 3S-R) • Two-armed rescue response service per month • Panic alert will be validated by service provider via Call/WhatsApps • Rescue response covers only within Ikoyi, Victoria Island, Lekki and Ajah (up to Abraham Adesanya axis) • Service Level Agreement o Panic alert validation call by service provider response time is within 1min to 5mins o Rescue response to location is within 30mins to 3hours dependent on the on/off peak traffic period and ease of access to location o Any panic alert requested counters towards your monthly subscription of not more than two-armed rescue response service per month o Additional panic alert request after the two provided within the month is prebilled at N5,000 per request.
Medical (Emergency Response Africa) – Toll-free calls (no credit needed) – Emergency request mobile app – First Responders on scene in minutes – Triage and stabilize on-site – Referral to Emergency-Ready Hospital – Unlimited First Responder visits – 1 Basic Life Support Ambulance Transfer – Free emergency care training and tips – Non-emergency support line – Comprehensive preventive health check
Disclaimer: CompassX is a technology platform product powered by Tru North X Limited and distributed by SEIC Limited in Nigeria. We are a platform provider who facilitates instant location-base notifications and do not provide emergency response services. This is handled by our 3rd party emergency response service provider partners, and we do not have any control.